At Retriever we are working full time developing a completely new product for monitoring, listening and analysis of social media - Retriever Listen.
During the summer of 2019, Retriever acquired the social media company RelationDesk, in order to strengthen our solution within social media. RelationDesk is a social media management tool were you can engage with your customers, publish your content and measure what needs to be measured. The following year, we hired a social media expert and product owner to further develop our upcoming product Retriever Listen.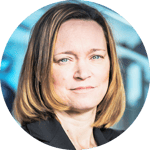 – Since 2010, we have our own monitoring for social media, many know of it as Pulse. Back then it was a complement to our full media monitoring product Monitor. But times are changing, our customers have completely different needs today and to meet these we have developed a completely new product. Our customers have been involved in the whole process, and some have already tested it. Along the way, we have asked them what they think is good, what is relevant and what is less relevant syas Johanna Strande, product owner, social media, Retriever.
What does Retriever want to achieve with this new product?
– A competitive product that customers like to use. It's not just about understanding and listening to social media but also creating insights. For all companies and organizations, there are standards for what is good and bad. Everyone wants to know how they are performing, who succeeds better and worse. Retriever uses the available sources: Facebook, Youtube, Instagram and Twitter as well as some image sites such as Pinterest. Linkedin and Snapchat are currently inaccessible. From its sources, Retriever retrieves raw data from posts but also comments.

A big part of the success lies in finding the right things to measure in the raw data?
– The major social media channels do not or may not offer a lot of demographic variables. But we can segment target groups depending on what people write in their posts and in the images they post. Then we can get an idea of for example how old the person is and the type of interests the person have.

Artificial intelligence is an important component of Retriever's new social media product. The new product must also be able to measure positive and negative sentiments, or the tone of what is written about a company or on a specific topic.

– Our algorithms look at all posts to see what tone a company's customers have. It's good information to have if a company needs to act on the content.
How will the new product be competitive?
– By listening to customers. I repeat that a lot. The service must be in the cloud and GDPR-secured and be able to be purchased in packages with Retriever's media monitoring services or as a standalone.
When will the new product be ready for launch?
– It is an interactive process, but we will have a first version in Q1 2022.
---
Retriever develops with its own internal resources and has both ux and ai internally. Retriever's new product will compete with Falcon, Meltwater and Notified.