Everything
you
need
in
one
digital
platform
Our extensive Nordic media coverage is our core strength. In addition to that, Retriever's international media monitoring covers a large number of sources in countries worldwide, including press articles, online media, TV and radio.
Through partnership agreements with the important media and media houses, Retriever offers access to article content in source format, full text and behind payment walls without jeopardizing media copyright.
One digital platform

that

enables you to get the full picture of your media lanscape and stay updated on the conversations of you and your brand/products.


Follow the conversations daily

,

receive

push

notifications

from the Retriever

mobile

app

or e-mail alerts

with

your

important

news

.




Get valuable insights

of

your

mentions

and

performance

in the media landscape

–

when

you

need

it.

Follow

your

brand over

time

or

compare

with

other

organizations

and brands

.

Use

the

platforms

a

nalysis

tool

and do research in

our

extensive n

ews

archive Research.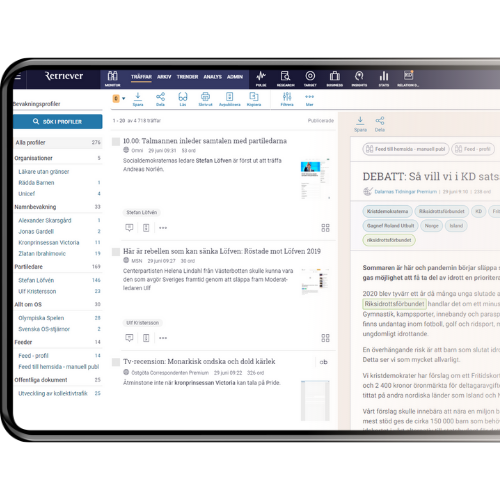 Why choose Monitor?
The Retriever team
Retriever has always been about the team and we really know media monitoring. We are here to help you - your success is our business!
Take us for granted
High quality content and a modern user-friendly platform should be taken for granted with any full-service provider. Easily monitor and pinpoint important topics in thousands of sources from all over the world with our ever-growing source base.
Big or small
Whether you need a small scale media coverage-service or a full-blown international monitoring solution, Retriever will provide you with the keys you need to succeed. And we will be there for you every step of the way.
Be at the top of your game with Retriever Monitor
Frequently asked questions
Is Retriever a full-service provider?
Yes, we offer media monitoring, research and analysis tools - all in one user-friendly digital platform. In the same platform we also offer social listening and business information. Contact us and we will tell you more!
Do Retriever cover the entire media landscape and what sources do you monitor?
We monitor print media, online media, TV and radio. Nordic as well as internationally.
How do I make sure to get only what's relevant?
With extensive experience of building search queries, our Customer Relations department helps you to tailor the media monitoring for your business. Our customer managers ensure that relevant news is captured and that noise is reduced.
Load more
How do Retriever's customers use the media monitoring service?
Retriever's customers use the media monitoring to stay updated on what is going on in the media, without having to chase down the information themselves. Having the right contacts with the journalists is an important part of communication strategy and by using Retriever you can find who is writing about a specific subject and also which media doesn't pick up on your press releases and work on buildning relationships with those.With Retriever the whole organisation can stay updated, by feeding news to intranets and websites and with e-mail alerts custmized for the user.
How can I use the analysis tool?
Use it to follow the development of a brand over time, find which media or journalists write or don't write about your subject, understand your competitive landscape and follow the effect of your communication and PR-work. Our customers create media reports with key information put toghether in an automated delivery.
Be notified about important news for you and your business
We tailor the employees' notifications on the topics in the media monitoring that is important to receive notifications about at given times.
Activate your notification settings directly in the Retriever mobile app and receive push notifications on important news
Or receive daily emails with the topics that are important to follow
We can also deliver news in a news feed to your intranet or externally