Listen and gain insights from social media
Retriever Listen
is a social media listening tool developed in collaboration with our customers and for our customers! Delivering relevant social data from the web included in an easy, digestible format.
Retriever Listen help our customers to understand and compare online conversation about their:
Company
Brand
Products
Services
It allows you to understand what your customers are talking about, what they think, how they feel and what they need from your business.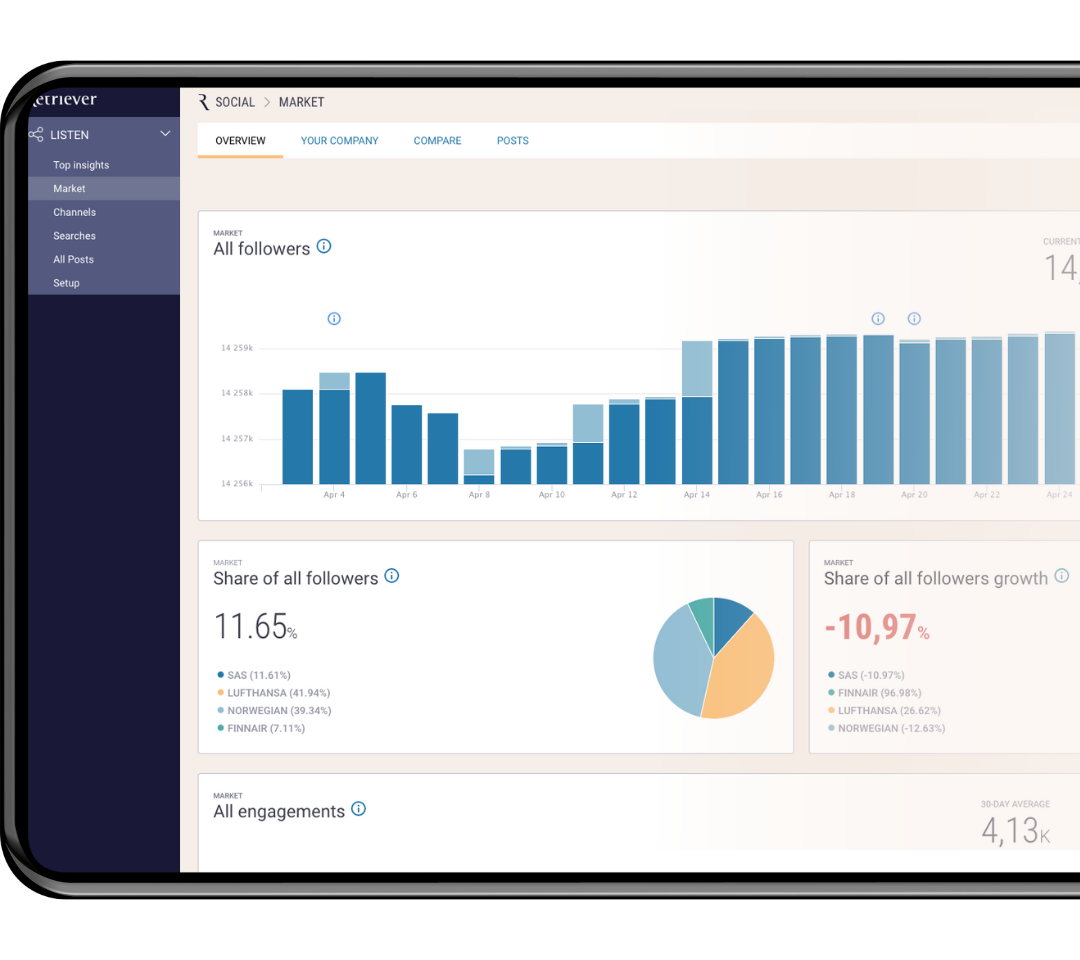 Why choose Retriever Listen?
Compare your data with others
Retriever Listen makes this easy for the customer to Compare data using an "auto-pilot" insight dashboard without having to use many filtering options. No complex software is needed to make decisions. As in all market research the fundamental "thought"/factor is to compare one thing with another thing. It could be your competitors or other benchmarks. Or your new and old digital campaign.
Discover insights to make the right decisions
In the Market dashboard customers can easily discover insights they were not even looking for without setting up a single Boolean search (only using owned accounts and open accounts). This gives more relevance/context, both by showing competitors and comparing to them ("The Market") by default.
Do not miss out on any important data or insights
The Top Insights lift up things you might otherwise miss, and save time you would normally spend looking through lots of data.
Be at the top of your game with Retriever Listen
Frequently asked questions
Is Retriever Listen suitable for everyone?
Most companies are active on Social Media and benefit from listening to the conversations in the SoMe platforms in a structured way with easy to understand metrics. The tool is co-created with our customers to help them in their daily work life and give them valuable insight.
How do I get a competitive edge in Social Media?
Retriever Listen gives you Top Insights to prioritise your time and spending it on valuable conversations and our Market dashboard enable you to compare yourself with your benchmarks/competitors and give you an edge by discovering how others in your market converse. Reducing the noise and use the best keywords or hashtags in your communication.
Show more
Is is easy for anyone to understand?
Retriever Listen give everyday users insights in a digestible format without having to spend a lot of time looking through vast amounts of data. You do not have to be an analyst to find the most valuable insights. In Top Insights you can prioritise your time and spend it on the valuable conversations.