Explore the Nordics largest digital news archive
In Retriever's unique digital database, you can search for and read articles from thousands of sources after they are published online or sent to the printing presses – all the way back to the 1980's. In addition to editorial articles, you will find relevant content from selected websites, such as authorities and municipalities.

During our 20+ years as a leading media monitoring agency, we have collected enormous amounts of data from the Nordic media landscape.
Every day we fill our databases with millions of articles, features, posts and comments from editorial media, which are all searchable in our digital News archive.


The archive is used as a research database by journalists, researchers, authors, university students, primary school students and many more on a daily basis.


Easy to make search queries and filter the hits for accurate results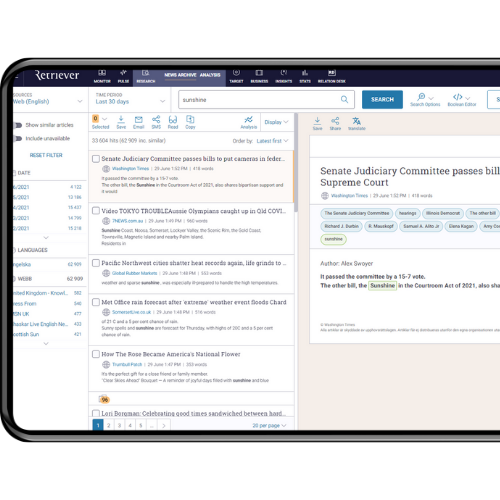 Why choose Research?
Full coverage
The media archive covers media from all over the Nordic region and about one hundred thousand international sources. The database currently contains approximately one hundred million (!) searchable articles.
Work
smart and
share
easily
with
others
Save your most common searches, create article lists for reports to share with others or to work with later. Follow the media flow over time via our analysis tool and compare searches with each other.
Great overview - avoid being overwhelmed
Retriever's news database only contains news and feature articles. No need to chase down single newspapers or filter all the noise from the rest of the Internet.
Be at the top of your game with Retriever Research
Frequently asked questions
How far back does the archive go?
Retriever's news archive contains print articles from the 1980's and forward, but it depends very much on when we signed partnership agreements and what we were able to get access to in terms of that particular media's own archive.
Do I have access to all articles?
It is based on what agreement you have. Most common is to have access to the sources in the language of the country you are based in.
How do I get relevant search results?
You can use the search options, where you get help with key words and don't have to know how to use operators and fields. You can also make a simple search in the initial search box and then use the filter menu on the left to drill down the result.
Load more
How many articles is in the archive?
We have more than one hundred million articles and it is growing by the day.
Who uses the news archive?
The Retriever news archive is used on a daily basis as a research tool by journalists, researchers, authors, university students, primary school students, companies and many more.