Understand the results of your communication in a new way

Do you want the ability to slice and self-analyze your data, dive deep into your own and competitors' media coverage, or find a good way to visualize and communicate media impact to your organization?

Retriever´s Insights is for you - a powerful yet simple dashboard solution, pulling in media data from Retriever as well as your own sources to give you the complete picture. Whenever and however you need it.
Management tool with real-time data
Visualize and share in your preferred way
Slice data to explore new angles and insights
Integrate external data for a bigger picture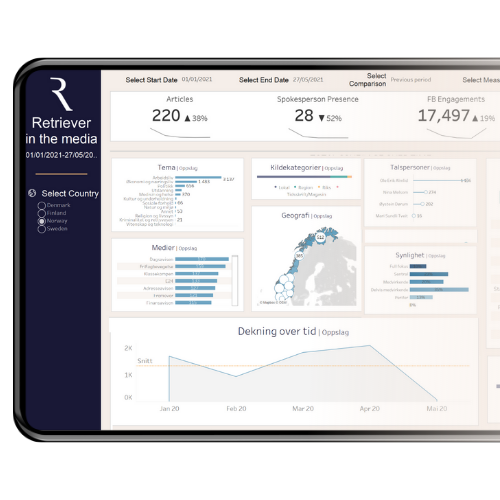 Why choose Insights?
The full picture
Not only does Retriever Insights pull media data - it can integrate external data of your own.
Real-time insights
Why wait for a report? See and interactively explore your media impact, on the go.
Built by experts
Each dashboard is tailored to your own needs and preferences, by certified analysts.
Be at the top of your game with Insights
Frequently asked questions
Is Insights suitable for everyone?
The vast majority of companies that work with communications are likely to meet needs that can be met by a Retriever Insights dashboard. Insights can function both as an interactive and digital alternative or addition to the traditional media analyzes in PDF format, and as an offer to customers who want more flexibility than what we can offer through the functions available in our portal today. Insights also provides the opportunity to include external data, so that the customer can compare our media data with other data sources that are relevant to the customer's communication and PR work.
How do Retrievers' customers use the dashboards?
Retrievers' customers use Insights as a management tool in their communication work. In the dashboards, you measure the effect of your own communication. Thus, one learns from one's own success and any mistakes. In addition, the dashboard acts as a result document. You will be shown the effect of your communication work on the company. By measuring the results of the work done by the communications department, the use of resources and efforts are legitimized. In the dashboard you can measure the communication work in real time. The press manager at Posten Norge says the following about Insights: "We get a more qualitative monitoring of the media image, we get into the depth of important topics more quickly and get a better decision basis for communication work."
What kind of data sources can be included in the Retriever dashboards?
Using the dashboard, you will be able to analyse the development in the media coverage your business receives, and combine media data from Retriever with other relevant data, such as data from reputation surveys, social media and your own websites. Insights is also an excellent offer for those who find it time-consuming and challenging to have to maneuver between several different platforms to measure their own communication, and who therefore need to collect data from different sources in one place.
Load more
What is the advantage of having analysis delivered in dashboards instead of in traditional report form?
Retriever Insights offer greater flexibility and more usability than what the traditional PDF analysis can offer, and are suitable for companies that generally want to get more out of the media data we offer them. Insights provide the ability to choose custom analysis periods yourself, the ability to more easily compare with previous periods, or the ability to examine more combinations of variables than the PDF analysis allows. Not least, Insights can be suitable for companies that need to gather all analysis results easily accessible in one place instead of receiving new reports for each period.
How are the dashboards built and can we get a dashboard adapted to our needs?
Retriever Insights is customized and updated by certified data analysts who work with dashboards on a daily basis. All Retrievers dashboard customers have a permanent contact person in the analysis department. Among other things, this person is responsible for setting up the dashboard, providing training, and making ongoing changes and adjustments in line with the need for reporting.
Clients using Insights