Insurance company If's media communication is planned in line with business objectives and in close cooperation with experts.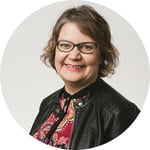 – Communication measures are based on If's communication goals that we have derived from If's strategy and business goals. We want to be an insurance company that stands by your side. Highlighting this position is central to our media communications", says Ainomaija Pippuri, If's Communications Director, IF Insurance, Finland.
Brand Building Effect deepens measurement from quantity to quality
– In communication related to damage prevention, everyday safety and current affairs are emphasized, for example by taking into account different seasons. Surveys and research play an important role in linking messages to opinions of Finns and their everyday life.
– Measuring If's media visibility focuses on, among other things, the most important news events of the past period, the visibility of experts and how publicity is distributed among the topics that are important to If. The Brand Building Effect meter, which illustrates the qualitative reach of communication, is accompanied by an analysis report. The metric weighs media hits based on their tone, how prominently If is featured in them, and the readership of the media outlets.
– We are a goal-oriented organization and it is important that we can also demonstrate the results of our communications work clearly and measurably. With the Brand Building Effect meter, we are able to bite into the effects of our communication in various measures and topics, and to qualitatively assess the visibility of our experts.
Feedback and appreciation through concrete figures
Media analysis provide feedback not only to communication, but also to experts working with the media.
– We review the analysis reports on a quarterly basis with management and experts in media communications. Demonstrating the impact of communication through figures also inspires management and increases the value of communication internally. It is also a way to show the importance of this work to our company's spokespersons and thank them", Pippuri emphasizes.
---
IF Insurance
If's
business area Industrial is specialized in providing
insurance
solutions and risk management solutions for large, international Nordic companies.