Disruption is a constant, synonymous with innovation and is happening everywhere all the time but especially in communications.
In May, the International Association for Measurement and Evaluation of Communication held its annual AMEC Summit in Bangkok. The conference is distinguished by its commitment to sharing trends and best practice across national borders, and it always concludes with the presentation of the prestigious AMEC Awards, which recognise the leading media analyses in the industry. We were, of course, present in Bangkok, and would like to present some of the hottest topics from the conference.
The answer is in the data
How could Brexit come as such a surprise to so many people? Professor Jim Macnamara gave a presentation about his most recent research project, where he sought to establish how the Brexit vote could have come as a surprise to the British Government and the Remainers.
The findings from his project revealed, for example, that if the government had analysed more of the data sources that were already available to them, they would have seen which way the wind was blowing much earlier in the process. The data material was made up of all kinds of information, including thousands of emails from "the people", which, viewed in the context of other measurements, would have provided a clear indication of the likely outcome of the referendum.
According to Professor Macnamara, the Remain camp could have mobilised more effectively if they had made better use of the huge volume of data that actually signalled Brexit. But because the Remainers failed to analyse all the data at their disposal, they could not see the whole picture – and were therefore unable to predict the outcome.
How to measure "nothing"
It is not always easy for operators who are engaged in preventative work or work to change attitudes and behaviour to measure the results of their communication input. When you want people to change their behaviour (i.e. to do less of something, or to do something differently) it can be tricky to measure whether your efforts are having the desired effect – in the case of preventative work to combat house fires, for example. The British Government recently completed a campaign whose objective was precisely to reduce the number of house fires.
Several studies indicate that questionnaires do not always provide sufficient insight into such incidents, and the question of how researchers could measure the effect of the campaign has been asked. Instead of simply carrying out a survey featuring questions about whether or not respondents had purchased new smoke alarms or changed the batteries in existing ones, the researchers chose to look at the number of smoke alarms and batteries sold in the area where the campaign was under way, and used this to indicate the success – or otherwise – of the initiatives.
Dare to measure what is important
We often talk about how measurement should be used as a result document for the communication input. However, best practice also involves using measurement to help you do a better job yourself – not just for the purpose of reporting or defending your own resources. It is a question of using measurement as a tool and as an integral part of your working day and the assignment itself.
In other words, it is a matter of daring to evaluate your input and saying "we weren't good enough in that area" so as to do better next time.
The next step in the process is to attempt to interpret the data rather than simply looking at the numbers. In short, it has to do with drawing knowledge from the data you have collected. In this context, it is also essential to determine which data are actually relevant for your business.
Measurement more important in an increasingly fragmented media world
We are living in a media world that is becoming more and more fragmented. The number of media platforms is rising steadily, making it increasingly difficult to maintain an overview. In order to navigate safely through this landscape, the insight that stems from measurement and data is quite simply crucial. Many media channels are contingent on carefully considered measurement. Measurement before, during and after communication initiatives is also "a must" for all operators looking to improve the efficiency of their communication.
Read more about all the benefits of measuring your communication and analyzing the results here.
At the conference, we heard from numerous Asian players such as American Express Asia, Philips Asian Pacific, Mubadala (the Government of Abu Dhabi's global development company), GlaxoSmithKline India, Nissan Asia & Oceania, Microsoft, GE South Asia, and the communication department of Singapore and UK Government. They all spoke of how important measurement is to the way they work and what they see as disruptive for their communication. Emphasising the importance of measurement as a tool for justifying their resource consumption and for assessing their own work. Measuring makes it possible to develop from operating on "gut feeling" to making qualified assessments of whatever work you are doing. Correct use of measurement can help you enhance your status as a communicator.
What else?
The conference covered many other exciting themes, including big data, automation, artificial intelligence, the customer journey, and the importance of human assessments in an increasingly automated world, to name but a few. Also, AMEC launched their Global Business Study 2017, which can be read here.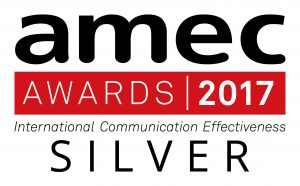 We are bringing home plenty of inspiration from Bangkok, as well as the silver medal we won in the AMEC Awards, of which we are naturally (and justifiably) proud. We were awarded our prize in the "Best measurement of a not-for-profit campaign" category, for the analysis we carried out for the Fritt Ord Foundation on the subject of Islam and Muslims in Norwegian media in 2016.